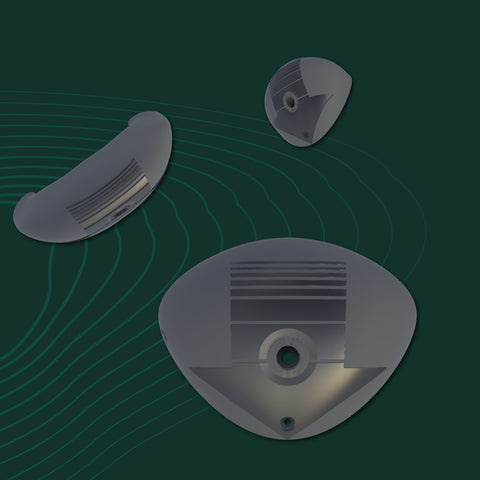 Greenholds news
Do you care about our planet?
Great! Because we're proud to announce our new generation of DownClimb Jugs!
Sustainable & Responsible.
100% recyclable and made out of waste
The DCJ: specifications, cleaning & mounting
After the Trainingholds, Greenholds presents its newest product; The Greenholds DownClimb Jug!
The DCJ is a nice, smooth, really good and safe Jug. The futuristic detailed arrow (Dual Texture) guides your climbers the safe way down. Thanks to our digital and clean design process the Jug is perfectly symmetric. Like all our holds and thanks to the strong material there is no washer needed (single material product). Mounting is done with a DIN 912 cylinder bolt M10. When you use the right torque on a flat surface, the Jug cannot turn. In addition, an extra anti-rotation screw hole has been added.
Price & shipping
We are happy to be able to offer the DCJ at the favorable price of €27,99 excl. VAT. In this way, sustainability also becomes affordable. The DJC's come with great pre-order give-aways and will be shipped in the first half of September.
Big Gym or Gym chain?
Receive customized offerings above 500pcs.
Good for our planet & your wallet!
Indispensable in every climbing- and bouldering gym! With Greenholds Climbing holds there's finally a sustainable alternative available on the market. Truly 100% recyclable at the end of life. Because of the sustainable product design, we promise that it will take a while before they wear down. And when they do, just turn them in. You will get a 40% discount on your next order. Good for the planet and good for your wallet. Win-Win.
Climbing with respect for nature
The ever-growing world of climbing is crying out for sustainability, Greenholds offers a step in the right direction. Greenholds is on a mission to make our beloved sport sustainable. Via expansion of our portfolio the coming months, starting with this DownClimb Jug. Greenholds is proud to be a 1% for the planet company. 1% for the Planet is a global movement that inspires businesses and individuals to support environmental solutions. As 1% to the Planet company, Greenholds donates at least 1% of its annual sales to support environmental solutions.